Pleated Filters

Pleated filters utilize increased surface area by pleating media in the frames. This 3rd dimension increases surface area leading to improved air flow and higher dust holding capacities. Available in MERV10, MERV11, MERV13 ratings.


V-Cell Mini Pleats
These are the highest performing filters for HVAC applications. Their low pressure and high dust holding capacity provide for the longest service life decreasing change-out frequency and decreasing energy consumption. Made of injection molded plastic and a ultra fine engineered media, it is designed to stand up to 100% humidity providing the utmost in durability. Available in up to a MERV15 rating.



Bag Filters
Bag filters have withstood the test of time with nearly 50 years in service. While they have improved greatly over the years, many of the benefits are the same. Their compact size saves on shipping and disposal which take less space than the alternatives. Built around an ultra rigid header and durable synthetic media, Florence Filter Flo Bags are ultrasonically sealed and available up to a MERV15 rating.
Products
Carbon Pleats

The Flo Pleat Activated Carbon is an excellent high performance solution in applications such as airports, industrial facilities, chemical plants, office buildings, and a wide variety of other air filtration systems.
HEPA Filters

A complete line of HEPA filters are available with many sizes stocked for customer convenience. Metal and wood frames are available as well as box or header frames to fit your specific application.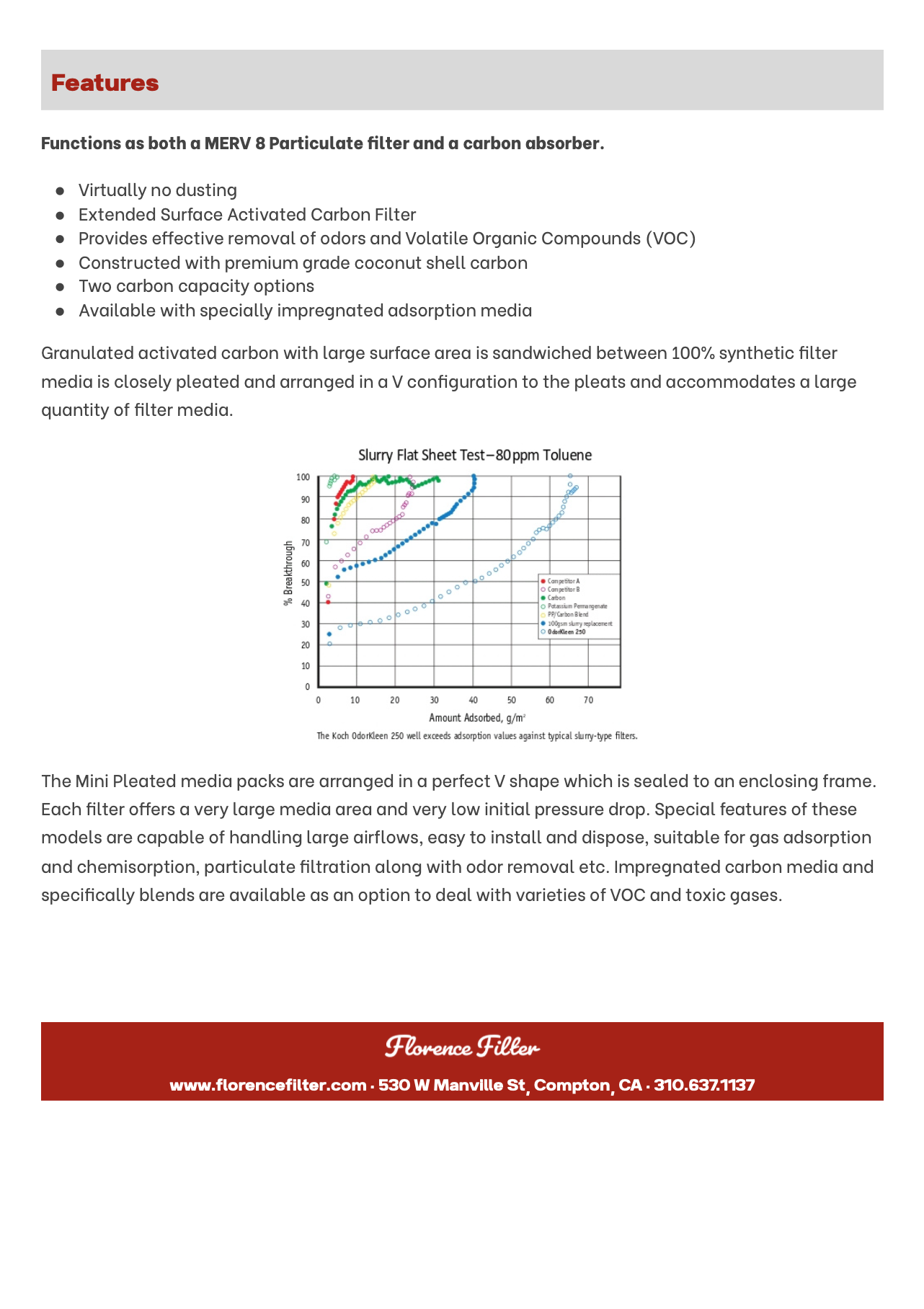 Flo Panels & Flo Links

Created with layers of synthetic media and a 9 gauge wire support sandwiched between. The Flo Guard Series Panels and Links provide impingement filters that are self gasket edge sealing to prevent bypass and maximize contaminant capture. Great for high moisture environments as it can withstand 100% humidity.